Introducing our new Director of Therapeutic Services Sacha Richardson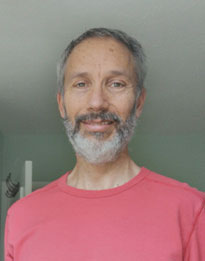 We are pleased to announce Sacha Richardson has joined our team as Director of Therapeutic Services here at Terapia.
His extensive knowledge of child, adolescent and family psychotherapy and counselling spans across two decades and will enable us to continue the affordable and accessible therapeutic support offered to children, young people, parents / carers, families and adults here at The Bothy.
Overseeing our Therapeutic Services department, Sacha will be working with our Head of School Service and Development, Pamela Butler, as well as the psychotherapists in training who provide therapy to our clients as part of their professional development. 
Commenting on the new appointment, Sacha said: "I am really excited to be joining the Terapia staff team as Director of Therapeutic Services this autumn. My connection to Bozena, Terapia's CEO, goes back nearly 30 years when we started out on the first year of our training as Psychotherapists together and it's a fantastic opportunity to be able to work together once more.
"I have taught the Bereavement Module at Terapia since its inception 18 years ago and have always wished that I could have more ongoing contact with students. My new position gives me two opportunities to do so, through my involvement with coordinating placements at The Bothy and through a teacher appointment that will enable me to teach Module 1 students alongside colleague Sasha Morphitis next year."
Formerly a Director of Family Services at Winston's Wish, Sacha's experience predominantly focussed on bereaved children and their families, including work with National Helpline, SE, SW and NW area teams as well as providing support and training to professionals.
Further commenting, Sacha said: "Already I have felt warmly welcomed by all members of Terapia's community and it feels like I have joined a large extended family."
An asset to the team, we look forward to welcoming him into the new position.
To find out more about the therapeutic services offered by Terapia, click here.