Student Experiences: Sasha Morphitis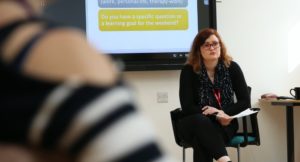 Integrative Child and Adolescent Psychotherapist Sasha Morphitis completed her MA at Terapia in 2018. Since then, she has gone on to work and teach for the training organisation, as well as practice privately.
Working with children for over twenty years in various roles, including as a primary school teacher and counsellor in the education sector, Sasha decided to enrol for the full five-year masters training in Child and Adolescent Psychotherapy and Counselling.
"I researched training providers that offered a masters qualification to work therapeutically with children," explained Sasha, "I attended two different open days and interviews at two colleges, including Terapia."
Sasha found that the integrative model taught at Terapia suited her ethos, personality and previous experience.
"I chose Terapia for several reasons. I found the open evening and interview the more authentic experience," said Sasha. She went on to explain that she felt the questions asked during the interview were appropriate and instilled a sense of confidence that the course would be right for her.
"The students seemed to come from all backgrounds and walks of life and brought an eclectic mix to the group. It [Terapia] also felt the most reasonably priced of the courses and yet covered all relevant subjects."
Sasha believes that Terapia has shaped the therapist she has become. The course exposed her to many inspirational and experienced professionals.
"Some of the tutors and supervisors transformed my perspective and were the best role-models," said Sasha, "My course colleagues became my second family. As individuals they continue to inform the work I do and enrich my personal and professional life.
"I am still in touch with my group. It was a close group that offered unconditional positive regard and a lot of laughter! Many of them will be friends for life."
After qualifying, Sasha was employed as the Head of Clinical Services at Terapia. She built and ran a clinical service at the new Bothy residence and was in post for a year and a half.
"Since finishing my training, my passion and interests grew towards working with autism and other neuro-developmental difficulties, and also in providing a holistic approach when working with families," continued Sasha.
"I now work for a consultancy where many of my referrals are working with parents to support them to understand their child's behaviour and build connections."
Sasha has gone on to complete further training in DIR Floortime, which is a relational and developmental approach to working therapeutically with autism and other developmental differences.
Whilst building her DIR Floortime practice, Sasha has been offering a holistic Floortime and psychotherapy service to families. She has also started teaching the Autism Module at Terapia.
Courses begin every January and are fully accredited by the United Kingdom Council for Psychotherapy (UKCP) and MA courses are validated by Middlesex University. Terapia is currently holding Open Evenings via video conference, for more information please click here.